Authors and editors are often faced with hard choices when they are producing communications intended for the public. In many situations they know that no matter which option they choose, part of their audience is going to be unhappy with their choice.
For example, the communicator is often between a rock and a hard place when choosing between two grammatical constructions. If he or she chooses option A (the more formal, traditional construction), the message will sound stuffy or stilted to part of the audience, and the communicator will be labeled a "traditionalist snob." If the communicator chooses option B (a more informal, colloquial construction which accurately reproduces contemporary speech) cries of "Bad Grammar!" will arise from grammatical traditionalists. How does a communicator produce a balanced style that results in normal-sounding, non-snooty speech, but also anticipates and deflects erroneous but predicable criticism by grammatical traditionalists?
This dilemma confronts communicators in almost every medium and genre of communication, whether written or oral, but our examples in this mini-conference will be taken from the most sensitive genre of all: Bible translation. This mini-seminar is based on experience gained by the Wartburg Project, a society of professors, pastors, teachers and laypeople, who are working together to produce a new Bible translation, the Evangelical Heritage Version. (See the Wartburg Project website for information about this project.)

The Bible is the most sensitive genre of communication because Christians cherish the Bible as the inspired Word of God. Translators have no calling to edit or "improve" what the Holy Spirit has said. Experienced readers of the Bible have very definite ideas about what a Bible should sound like, but different groups of those readers have very different ideas about what a Bible should sound like. In addition, readers know many Bible passages by heart from various translations. They expect a new translation to improve the readability of the text but without making any noticeable changes to familiar expressions. The task of Bible translation magnifies the tug of war between formal and informal speech, between freshness and familiarity.
We can start the discussion with a simple example. When our project published a sample translation of the Gospel of Matthew we received the following question.
"Why does your translation use bad grammar? In the Garden of Gethsemane you twice have Jesus saying, "Who are you looking for?" It should be "For whom are you looking?" Jesus would not use bad grammar."
Our EHV guidelines that govern this situation are: Observe distinctions between who and whom, etc., but try to avoid uses that sound stilted or pedantic in contemporary English. "Who are you looking for?" sounds like normal conversation to most people. "For whom are you looking?" is not common in conversation. When reporting conversations in writing, try out a few English sentences and see what sounds like normal conversation.
Do the same for the rule "no prepositions last." In Germanic languages "prepositions" (which often are actually detachable particles that are part of the verb) sound natural at the end of a spoken sentence. The editors knew this was a no-win situation. Grammatical purists would say that "who are you looking for?" is bad grammar. But just as many people would say that "for whom are you looking?" sounds stuffy. It makes Jesus sound like a book rather than a living speaker. Other terms some people would use to describe "for whom are you looking?" are "super-formal" and "a school-teacher superstition." There are strong feelings at both ends of the spectrum.
But editors had to make a choice. (Or we could retain Jesus' original English dialect, King James English in which Jesus would say, "Whom seekest thou?")
If you were the editor of Matthew, what would you have Jesus say?
A. Who are you looking for?
B. For whom are you looking?
C. Whom seekest thou?
D. None of the above. Here is my better rendering: ___________________________
Explain and defend your choice.
An option for further study: See Supplement II — The War Over Whom at the end of this presentation.
This is a sample of the kind of question you will wrestle with in this mini-course. But first we have to make a little detour.
Are You a Snoot or a Slacker?
Before you can wrestle with individual cases, we need to adopt some general principles to guide us. What is your basic philosophy about grammar and usage?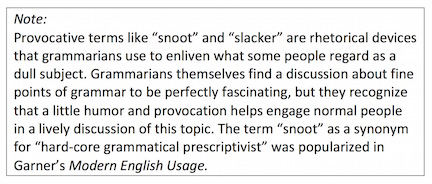 Is your approach to grammar prescriptive? When making tough decisions, do you prefer to follow a rule book handed to you by some authority? When you are between a rock and a hard place, do you tend to look the situation up in the rulebook and rigidly follow its advice? Or is your approach to grammar more descriptive? You think, "This is a conversation not a formal proclamation." The people I know do not say, 'For whom are you looking?' The normal way of talking is 'Who are you looking for?'"
Self Evaluation
Is your approach to grammar more prescriptive or descriptive? (This is, of course, not an either/or.) Where do you think you fall on this 1-5 scale?
Descriptivist Slacker . . . 1 . . 2 . . 3 . . 4 . . 5 . . . Prescriptivist Snoot
(Rules are made to broken) . . . . . . . . . . . . . . . (Rules are Rules!)
Does it matter whether you are writing or speaking?
Does it matter whether you are talking to your grandma or your friend?
Does it matter if you are going to get a grade on it?

An optional further study: Read and evaluate an online article about prescriptive and descriptive grammar.
Twelve Myths People Believe About English Grammar
Here are twelve "myths" about English grammar that are believed by many otherwise sensible people. Most of the otherwise sensible people who believe these myths are staunch prescriptivists. Checking your attitude and practice toward these myths will help you measure whether you are more of a prescriptivist "rules are rules" snoot or a descriptivist "rules are made to be broken" slacker.
The Myths
These myths are also called grammatical superstitions, which may be defined as "unintelligent applications of an uninformed dogma."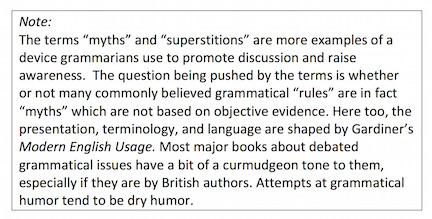 Myth 1: You should never end a sentence with a preposition.

This is a valid rule in Latin in which pre-positions must be pre-positioned, but Latin is not English. In English, ending a sentence with a preposition or verbal particle is completely idiomatic. As Winston Churchill remarked, "This is a rule up with which it is not necessary to put."

Myth 2: You should not split an infinitive.

You are permitted to politely ignore this rule.

Myth 3: Do not split a verb phrase.

This rule has greatly annoyed me for a long time. It also has annoyed me greatly.

Myth 4: You must not begin a sentence with And or But.

But that rule has been ignored by fine writers from Anglo-Saxon times till the present.

Myth 5: Do not write one-sentence paragraphs.

The previous sentence disproves this rule. One-sentence paragraphs may be emphatic, dramatic, or merely provide relief from wearying verbosity.

Myth 6: Never begin a sentence with because.

Because there is no basis for this rule, you may ignore it. But of course you must avoid creating dangling fragments of sentences beginning with because.

Myth 7: Never use since to mean because.

Since since may refer to either time or cause, you may use since as an alternative to because sparingly.

Myth 8: Never use between to express a relationship between more than two objects.

But since a triangle is a space lying between three points, you do not always have to follow this rule.

Myth 9: It is best to avoid referring to I and me in formal writing.
Myth 10: Do not refer to your reader as you.

The use of you and I makes your writing more warm and personal. Substituting something like the undersigned for a simple I immodestly calls more attention to the writer than a simple I would. There's nothing wrong with warm informality in personal opinions that are inserted into formal writing.

Myth 11: Don't use contractions in formal writing.

When you are reporting informal conversation in writing, thou shalt not sound like a snoot. Don't do it!
Self Evaluation
How many of these "myths" do you believe to be good rules?
How many of these "myths" do you practice?
Have you changed your mind about any of them?
How many of these myths does your English textbook recommend as firm rules?

(There is, of course, a difference whether these are practiced as a rigid rules or useful guidelines.)
WARNING!
People who make fun of people who believe myths about grammar usually believe a few myths themselves. Grammarologist Bryan Garner, who composed the list of myths above, himself believes the following myth:
Myth 12: When it comes to relative pronouns, in restrictive (essential) clauses use that rather than which whenever you can. This distinction between that and which makes good sense. It enhances clarity. And the best American editors follow it.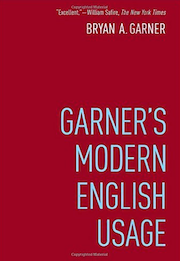 Garner's claim that this is a rule of English is unraveled by his inclusion of the words "it makes good sense" and "American." Myth 12 is based on an authority's opinion about what the rule should be rather than on objective facts based on the historical usage of the English language. American grammatical authorities have made a lot of progress persuading American editors that this myth about that and which is true, but they have made less progress among adherents of the Queen's English. In the early 20th century H. W. Fowler, who promoted the same that/which distinction as Garner, admitted that neither the most nor the best writers practiced this distinction.
It is, therefore, not necessary to believe the myth which advocates that as the only pronoun to govern essential relative clauses and which as the right word for non-essential clauses. This rule is not supported by the history or usage of the English language. The distinction between non-essential and essential clauses can be clearly marked by the presence or absence of commas. However, you may want to use that as the marker of essential relative clauses more often the historical evidence of English usage would demand, because many people believe this myth and for you to do otherwise would lead to erroneous but predictable criticism.
Another Myth
As long as we are dealing with myths let's tackle one more. The myth: Pronouns that refer to God should be capitalized to honor God.
It has, in fact, been a convention of recent English usage to capitalize nouns and pronouns which refer to God. This practice, however, seems to have begun only in the 20th century. It was not the practice of early English translations, including the original King James. The basic principles of the EHV are: Capitalization of nouns and pronouns that refer to God is not a feature of the original text nor a long-standing practice in English, so it is better not to adopt this practice.
Capitalization is not a feature that marks deity versus non-deity or that conveys honor. Capitalization distinguishes a title or a proper name from a common noun: the Antichrist or an antichrist, the Evil One or an evil one; the Church or the church. But capitalization does not indicate deity or reverence: Santa Claus, Satan, the Easter Bunny, the King, the Great Pumpkin, and I are all capitalized.
This example shows how quickly a grammatical rule can rise and fall. After a heyday of less than a century, this rule is now in decline.
Discuss:
Why do you think that a request to capitalize pronouns referring to God is one of the most common requests our project receives?
Why does this issue have to be handled with care?
Here We Are, Between a Rock and a Hard Place
Now that you have decided whether you are a prescriptivist snoot or descriptivist slacker, or something in between, you are ready to start rendering your verdict on various grammatical dilemmas.
Give your verdict on each choice. Some comments appear at the end of this section. Check them after you have gone through the list.
Who's there? A) It is I. B) It's me.
The king will give Vashti's status as queen to someone A) better than she B) better than her.
A) My mother likes the dog more than me. B) My mother likes the dog more than I.
We must resist A) the devil B) the Devil.
Their sin A) stank B) stunk to high heaven.
The light A) shone B) shined in the darkness.
Judas A) stoled B) stole C) stold the money.
She gave birth to her firstborn son and laid him in A) a feeding trough B) a manger.
She wrapped him in A) swaddling clothes B) strips of cloth.
A) Samuel acted honorably like a judge should. B) Samuel acted honorably as a judge should.
A) Samuel acted like a judge. B) Samuel acted as a judge.
A) If I were God, we would be in big trouble. B) If I was God, you would be in big trouble.
One of the Hebrew words often translated banquet is based on the Hebrew verb for drink. Should it be translated A) banquet B) drinking party C) feast D) party?
Israel A) worshipped B) worshiped God.
A) O LORD, you are our God. B) LORD, you are our God.
Comments on the dilemmas above
Either way someone will complain, so why not avoid the problem and say I'm here?
The issue is whether than is a conjunction or a preposition. Historical usage shows it may be either. Written in full, the first phrase would be better than she is. Hardcore Conjunctionites are not persuaded that better than her is okay, so if you have a traditionalist audience stick with the use of than as a conjunction unless you are aiming for a relaxed, colloquial tone.
These sentences say different things, even though than acts like/as a conjunction in both examples. The first means she likes the dog more than (she likes) me; the second means she likes the dog more than I (like the dog).
In the Bible the Devil is a proper names for Satan, not a name for the subordinate demons. So the Devil is correct, but no honor is intended.
Irregular verbs are losing some of their irregular parts. Stank is the correct past tense of stink, but stunk to high heaven sounds okay to many people.
Shone is correct, but shined is making inroads.
If you listen carefully, you will notice that many speakers say he stold the money, but only stole looks right in print.
Some think manger is old-fashioned, but farmers have told us cattle and sheep still use mangers and feeding troughs are for pigs (at least in Wisconsin).
Swaddling clothes sounds old-fashioned until you google Amazon and find they sell swaddling cloths [sic].
Traditionally, like should not be used as a conjunction.
Example A means Samuel acted like a judge would, but he was not a judge. B means he acted in the office of judge.
Were is the contrary-to-fact subjunctive, but this usage is fading in English.
Let's be honest. If drinking is having an effect on what is happening, the translation must reflect that.
Many authorities say worshipped is British and worshiped is American, but searching actual usage with Google ngrams shows that worshipped predominates on both sides of the pond. Large databases enable us to search what usage actually is rather than guessing.
Modern usages prefers vocatives without O, but many readers like O in poetry and prayer.
Conclusion
As long as our language and our audiences have such marvelous diversity, authors and editors who are writing for a diverse set of readers or hearers will often find themselves between a rock and a hard place. Actions that will help you solve this dilemma are: lots of listening to all kinds of speakers, reading a lot of good literature, knowing your audience, finding a balanced position in the middle of the road, and accepting the fact that a communicator can't please everyone all the time.
A communicator's degree of freedom depends in part on whether one is acting as an author or an editor. Authors can shape their message to their audience's preferences and biases as long as they do not compromise their message or fail to tell their readers and listeners hard truths which they need to hear. Translators have much less freedom because their duty is to try to convey not only the message, but also the style and emotional impact of the document they are translating. This is even more true when the author is the Holy Spirit. We have no right to soften or "improve" God's message but must convey its emotional impact as best we can. This is true whether the message and language are "in season or out of season."
Thank you for your feedback on this topic. It will help us find the most comfortable spot between a rock and a hard place as we edit EHV. Our current practice is to use more formal language in the formal parts of Scripture such as prophetic oracles but to allow a more informal style in the conversations recorded in the Bible.
---
Supplements for Additional Study
Supplement I: A New Resource for Grammatical Study — Bryan Garner's Modern English Usage
Supplement II: The Battle Over Whom — Is whom dead or just dying?
Supplement III: Between a Rock and a Hard Place — part II:
Another set of 'rock vs. hard place' decisions involves those places in Scripture where, by inspiration of the Holy Spirit, writers have used language some readers might consider to be too crude or too sexual. Should translators soften or hide this language with euphemisms as many translations do, or should they use blunt terms where Scripture uses blunt terms? Teachers who would like to read and discuss Prof. Brug's presentation of such dilemmas can contact him directly at wpbrugj@gmail.com to receive an electronic discussion guide. The discussion guide includes a consideration of the appropriateness of such discussion on the high school level.
---
Translate this page into your language
Return to original language with "show original" button at top left.