I don't know what to do with my brand new holodeck.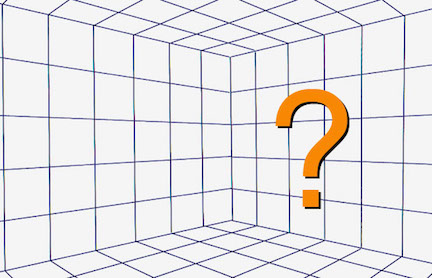 Actually, let me back up. This summer I was able to participate in the construction of a new laboratory at Michigan State University, which is where I'm working on my Ph.D. in Communication. It's called the Center for Avatar Research and Immersive Social Media Applications (CARISMA) Lab, and it's amazing. It has full motion capture capability, including real-time facial replacement and retexturing. It has virtual and augmented reality, meaning that not only can we simulate an artificial environment which you can move freely through, you can also manifest and manipulate virtual objects in the room. Soon a portion of the Lab will have omnidirectional moving floors so that participants can move freely and infinitely through virtual environments. I'm dating myself, but think about the holodecks from Star Trek: The Next Generation, where flawless computer-generated environments could be created and used. CARISMA is about as close as we can get to those without having the actual U.S.S. Enterprise in the building. It's amazing, and we're only just beginning to explore its capabilities.
The thing is, I'm a pastor, so I always tend to think about things in terms of how they could be useful for spreading the Word to those who haven't heard it, or delivering it more effectively to those who have. And that's where I'm a little bit stumped. I have at my disposal this incredible piece of technology, and I am short on ideas for how I can employ it to spread the Gospel.
I don't know what to do with my brand new holodeck. I'd like your help with that.
This may represent a very special opportunity for Christians. We have traditionally had a very mixed relationship with new media. Christians did an excellent job taking advantage of radio, allowing the message of the Gospel to be spread farther and to more ears than ever before. My grandmother was brought to faith when the message of the Gospel was delivered to her through the radio, and three generations of Christians in her family have followed as a result. Film and television caused more difficulties. Christian messages were often watered down, replaced with moralism, or drastically altered when they were presented at all. The quality of Christian-produced film and television media has varied wildly, and they often failed to capture the drama that such powerful events ought to communicate. Frustratingly, Christians really never got into the swing of video games. We played them as much as anyone, but in terms of content it was never manifestly obvious how to effectively communicate the message of the Gospel through games. Virtual reality (VR) might be an opportunity to rectify these shortcomings.
Presented here are some perspectives on VR as a medium for content delivery which may help guide thoughts that you can expand upon. In essence, the primary hope is to prompt discussion, both here in this GOWM forum and outside of it in our own circles, as to how the Gospel can be communicated through VR. The secondary hope is to inspire some of you to pursue the actual creation of content for this form of media.
This secondary hope is going to be particularly relevant for students. I can guarantee to you that there are careers to be built in this area. When I first stepped into the virtual reality simulator in CARISMA, I was blown away. It was not like watching a movie. It was not like playing a video game. It was something different altogether, and it was amazing. As the technology improves, these devices, already affordable at a consumer level (albeit pricey), will become less expensive and systems capable of running them will become more commonplace. I am comfortable practically promising you that this is the future of entertainment. However, there is very little content for it right now, and know-how in VR production is rare. If you choose to pursue VR content creation as an interest, you have an excellent chance at breaking into a burgeoning entertainment industry. If your current interests are centered on film or video games, I recommend that you at least attach VR as a parallel interest. It could prove lucrative for you, but even more importantly, it might prove very important to the work of the Church.
VR, as a medium, might lend itself to communicating powerful Christian messages more readily than radio, television, film or video games. During my first experience in the CARISMA lab a human-sized robot came lurching toward me, gears grinding noisily and sparks flying from its appendages. I knew that this was a digital construct which had no capacity to hurt me, but that rational voice in my head was a whisper against every physical impulse. I don't jump at horror movies. I comfortably play unsettling video games. But when that robot came tumbling out of the room at me, I staggered backward. When it looked up at me, I said, out loud, "It's not real. It's not real. It's not real. . ." Virtual reality provides a highly immersive experience, delivered in a very intense packet. This may provide opportunities which have long eluded Christians in media.
VR's primary power is that it is highly experiential. It does not seem to require the same elements that other narrative media require. Video games need objectives. Movies need a discernable story. VR only requires an environment. One of the most meaningful experiences of my life was a trip to Israel. I got to see what Jesus saw when He delivered sermon illustrations. It dramatically enhanced the Bible for me. VR affords the potential to put someone in ancient Israel, let them see and move about the Mount of Olives, and there may be tremendous value in this, even apart from any other content. However, VR allows for certain experiences to open up as well. Imagine experiencing being on the boat when Jesus calms the storm. Imagine being in the garden near a sleeping Peter, James and John while Jesus prays quietly nearby when the sounds of an approaching troop draws nearer, their torches gradually coming into view. Imagine drifting over a dark mass and suddenly hearing, "Let there be light." For believers these could be incredibly moving and instructive experiences. For unbelievers these could spark the kind of interest that prompts questions. Christians can leverage the visceral reactions that VR inspires to infuse a depth of meaning and understanding that traditional media has had difficulty communicating.
The highly intuitive nature of VR also may lend itself to a special presentation of Christianity. Films and radio programs with Christian messages are typically very weighty and verbose. This may be well and good for the Christians in the audience, who are prepared to dedicate the cognitive resources required to get the presented message, but the utility for those who do not have that level of motivation is probably very limited. VR programs, thus far, have tended to be short, singular experiences. A person who would have laughed at the idea of watching a movie about the Garden of Eden may very well be willing to stand by the Tree of the Knowledge of Good and Evil while the snake whispers the message that dooms mankind. Individuals who would never have had the patience to sit through a viewing of The Passion may very well be willing to stand on Golgotha and watch as Jesus proclaims their absolution. There is a tendency to criticize the short attention spans that TV, games and Internet have fostered, but consider how Jesus tended to communicate. He often chose short, vivid illustrations or brief, immersive stories, and seldom opted for lengthy, weighty soliloquys. I would suggest that VR provides a forum which more closely resembles how Jesus spoke and taught than radio, film, TV, or video games do.
I don't know what to do with my new holodeck, but I know that I want to see it used for God's Kingdom. VR is still the Wild West. There are no clean roads or accepted paths as yet. My hope is that together we can begin to see what this new media landscape has to offer and produce quality messages for it, so that visitors to this new digital land will find steeples there.
---
[ Listen to a 13-minute interview with Brian Klebig about his presentation, conducted by Andy Bates on KFUO-AM radio on his "Faith 'n' Family" program, September 28, 2016. Audio courtesy of Worldwide KFUO. ]
---
Translate this page into your language
Return to original language with "show original" button at top left.